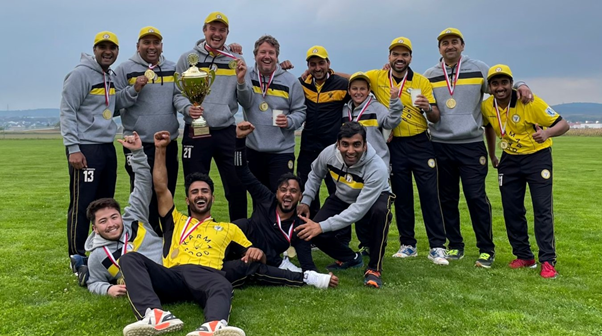 Vienna CC defeated the Donaustadt CC by a margin of 6 wickets to win the title of T20 Division Champions for 2022
In the first innings, the DCC XI team scored 136 runs in 20 overs and lost 9 wickets. Nour Alam Ahmadzai was the top scorer with 40 runs, while Razmal Shigiwals scored 24 runs and Zabiullah Ibrahimkhel scored 24 runs. The bowlers for the VCC team were Daniel Eckstein, Jaweed Sadran, Amir Jawed, Mark Simpson-Parker, and Akbarjan Abdullah.
Mark Simpson-Parker took 4 wickets for 18 runs in his spell of 4 overs.
In the second innings, the VCC 1st XI team scored 138 runs in 18.4 overs and lost 4 wickets. Daniel Eckstein was the top scorer with 43 runs, while Mark Simpson-Parker scored 35 runs and Jaweed Sadran scored 24 runs. The bowlers for the DCC 1st XI team were Zabiullah Ibrahimkhel, Ishak Safi, and Amanullah Ahmadzai. Zabiullah Ibrahimkhel took 2 wickets for 16 runs in his spell of 3 overs.
Overall, it was a good contested match with the VCC XI team defeating the DCC team by chasing down the target set by the opposing team with the heroics of Mark Simpson-Parker with bat and bowl.
Full scorecard is available here ( LINK ) https://www.crichq.com/matches/1053999/1st_innings