Cricket School Clinics in Vienna
In 2022, the Austrian Cricket Association (ACA) held cricket clinics at various city schools for 1500 students. The program was a big success, and the young kids excitedly picked up new abilities and the fundamentals of the game.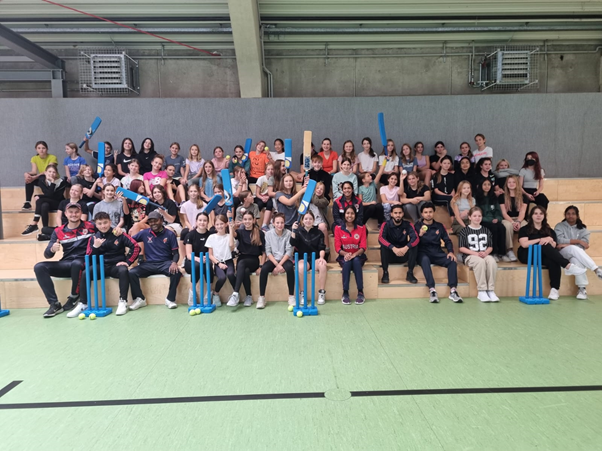 For the sustainable development of cricket in Austria, there are numerous facets over and above purely increasing the number of clubs playing in officially organised ÖCV-ACA competitions during the summer, or a successful showing by the National Team. There are various aspects of development that require attention to ensure the sustainable development of the sport.
Cricket for life: in Austria, as with many countries where cricket is a relatively young sport, many people's involvement in the sport is only during their active playing years. Once players stop playing does not mean that their involvement in the sport should stop. There are many areas in which they can continue to contribute to the development of the sport outside of playing, and make a contribution that enriches the local cricketing scene.
Umpiring and Scoring: education and training of umpires and scorers is essential for the ongoing development of the sport. Umpire education and training ensures that the standard of umpiring improves, while also offering umpires the chance to be able to officiate at a higher level. Scoring is a frequently overlooked area of the game – but one which is essential. Without scorers
Coach Development: increasing the number of coaches, enabling coaches to gain qualifications and to expand their own knowledge of coaching to a point where they too can bring on other coaches, all contribute to ensuring the sustainable development of cricket in Austria. 
Youth Development: coaching and introducing the game into schools and within clubs helps to nurture the next generation of cricketer, introducing larger numbers of children and teenagers to the game and thereby also increasing cricket's acceptance in Austria.
Women's and Girls' Cricket: one of the fastest growing areas of the sport is women's cricket. For the sustainability and general acceptance of cricket as a sport in Austria in the long-term it is essential that there are opportunities for women's cricket.
Infrastructure Development: for the sustainable development of the game, it is essential that there are adequate playing facilities to play and train.
Cricket as a recreational pastime: in addition to competitive league cricket, it is also essential to offer recreational cricket for those who wish to play the sport in a less competitive environment – as a contribution to their weekly physical exercise, as a wind of unwinding from the pressures of work or as a way to spend time with friends.
DEVELOPING CRICKET SUSTAINABLY